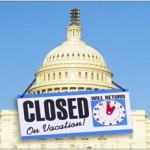 There is a lot of work for Congress to do, but it's understandable how in the summer Members would take a few days off. Perhaps a few weeks; more than a month …… naw.
We'll it's happening now. This Congress, which has passed far fewer bills than any Congress in our two hundred twenty-six year history began its recess on Friday August 1 and will not return to work until Monday, September 8.
If I am elected, I pledge myself to spend at least, and probably far more, than 40 hours a week doing the people's business.
I'm not quite sure what my Republican opponent Ann Wagner is doing during the Congressional vacation, but each weekday I will let you know of the kind of activities in which I would be engaged if I was in Congress.
Let's start with today, August 4, 2014.
POINT OF THE DAY:

Congress: Days at work – August – September, 2014